Invisigun Reloaded
v1.5 - The Spectator & Streamer Update
---
It's time for another BIG patch, once again bringing more fixes, map adjustments, balance tweaks, and two huge new features: Spectator support and Streamer instance support. I'm extremely excited about these in particular because they allow for exciting and unique match perspectives for viewers of live streams.
Spectator Mode
Simply join a lobby and don't choose a hero, and you'll be spectating that match! Spectators can choose to view the game as the players do - but also through a new visibility mode that shows invisible players as silhouettes.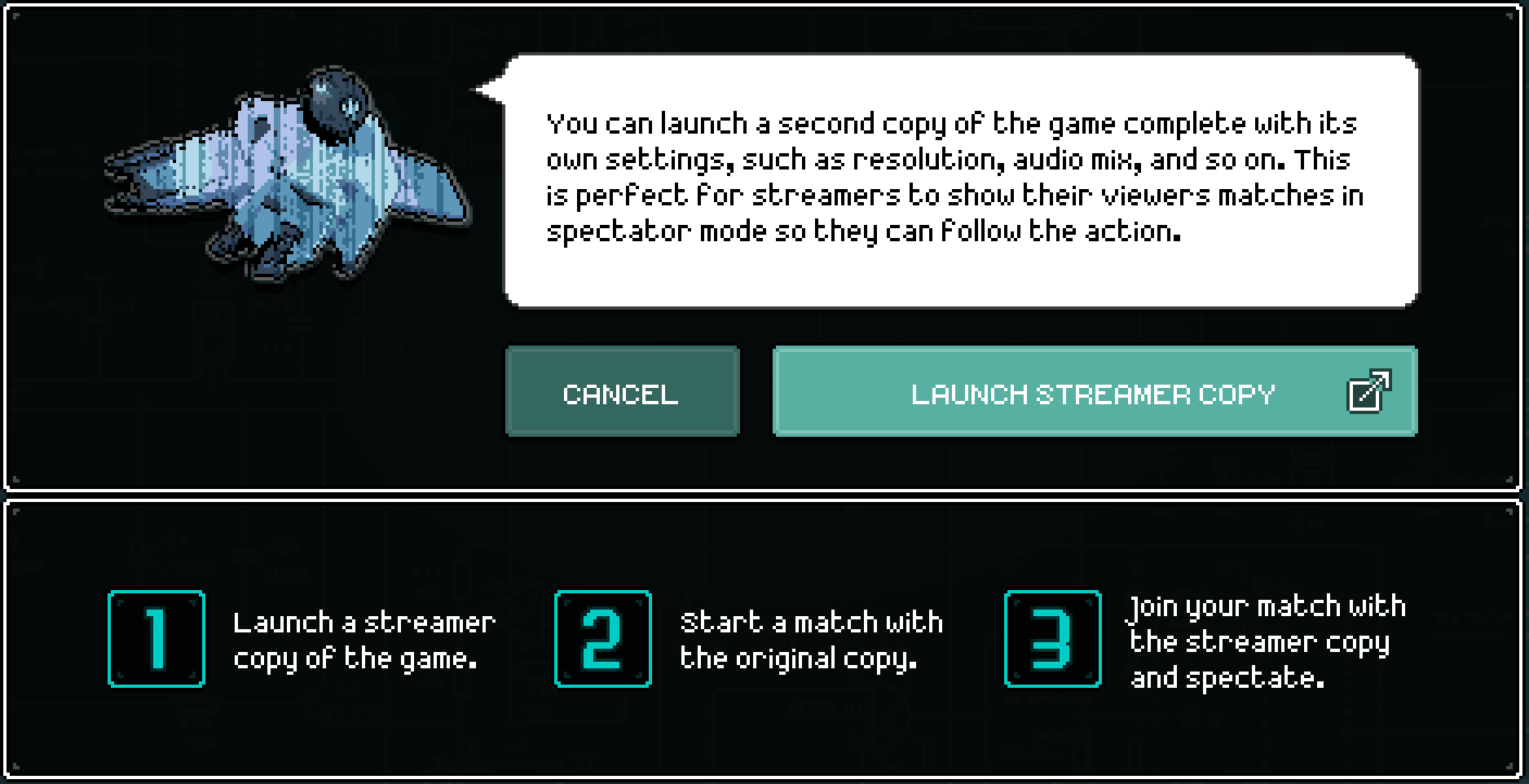 Streamer Instance
Activate the "eye" button on the title screen to launch a second copy of Invisigun alongside the first - and it has a completely unique set of preferences. Coupled with spectator mode, this lets you participate in matches in the first game while streaming a separate spectator copy for your viewers in the second game. Public matches are time-delayed to prevent abuse, while private matches are real-time.

For an in-depth overview of a common streaming + spectating setup, check out LEmental's detailed overview here: http://steamcommunity.com/sharedfiles/filedetails/?id=1107056480
This hopefully opens up a whole new world of sharing the game's action with others, and I hope you enjoy the slew of other updates with the patch. Here's the full changelog:

New
NET: Spectator mode with visibility options! Simply join a lobby without a hero.
NET: Streamer mode lets you launch a 2nd game copy from the title screen with its own persistent preferences
UI: Rock paper scissors added to the lobby chat messages :)
UI: More game preferences are available in the match pause menu
UI: More game preferences are available in the training pause menu
UI: You can bring up the options/pause menu in online matches, but the match keeps running
Updates
UI: Fullscreen and window sizes change immediately rather than after exiting options
UI: Inputs are processed only if the game is in focus
UI: Notice when instant replays begin
UI: Miscellaneous UI presentation updates (logo, Invisigun)
UI: Most vertical menus now wrap around when selecting items
UI: Outlined some small labels for readability
GFX: Hero profile demos show silhouettes for invisible players
EPI: Real Epi matches the animations and facing direction of Ghost Epi 1:1
GAME: Proximity doors shots to jam reduced from 4 to 3
GAME: Proximity doors jam time increased from 8s to 15s
MISC: Guest Edition preferences are separate from full edition - some prefs may be reset
Map Updates
Pacmanesque: layout adjustments around the center
Split Decision: reduced the size of the sand pits
The Woods: positioning adjustments of boundary light shafts
The Thicket: Side paths created along left and right borders
Jungle Tomb: Entrances added to left and right edges of center
Edward's Snowed In: Removed snow patches under bushes and blocks
Carte Blanche: Removed top and bottom center mine carts
Chamber of Time: Removed center light shafts at left and right boundaries
X-Claim: Reversed polarity of two trigger walls to open up quadrant dynamics
Crypt Creeper: Opened up area surrounding powerups a bit
The Crate Divide: Opened up left and right channels a bit
The Great Hall: Trigger switches add to top and bottom centers
Dual Tracks: Moved spawn points out of the way of mine carts
Red Rob's Border: Created nooks in the top and bottom center regions
Fixes
UI: Fixed character images sometimes over-tinting in lobby selectors
NET: Fixed timing edge case that could stall a match if a client disconnects
EPI: Revealer will continue to reveal both Real and Ghost Epi for its duration
IRIS: Fixed her dash trail sprites sometimes facing the wrong way
AETHER: Fixed not being able to ground pound sand piles
RONIN: Fixed not being able to slash sand piles
PHOEBE: Fixed sorting of portal counter label with other objects
MAPS: Fixed up some collision issues with neon signs on Arx-515 border walls
MAPS: Fixed some doubled-up tiles on Crypt Creeper that caused extraneous bumping
MISC: Much more efficient memory allocation of video buffers, less resource churn
MISC: Fixed interaction between Split Shots and Resistance
MISC: Firing when walking halfway off a portal will not cause you to teleport again
GAME: Fixed shots not colliding with their owners after being resisted
Files
Invisigun - Windows
195 MB
Version v1.5.1
Aug 12, 2017
Version v1.5.1
Aug 12, 2017
Version v1.5.1
Aug 12, 2017
Invisigun Heroes - Guest Edition - Windows
140 MB
Version v1.5.1 - GUEST EDITION
Aug 12, 2017
Invisigun Heroes - Guest Edition - Mac
140 MB
Version v1.5.1 - GUEST EDITION
Aug 12, 2017
Invisigun Heroes - Guest Edition - Linux
140 MB
Version v1.5.1 - GUEST EDITION
Aug 12, 2017